< Online OsiriX Documentation
^>
OsiriX HD; Transmit and share patient images with referring physicians with 5G Ultra Wideband. Drill down into critical details. Empower your clinicians with OsiriX HD, a fast way to view and manipulate medical images in a convenient, compliant and compatible way—now on the iPhone 12 line up. OsiriX is an image processing software dedicated to DICOM images ('.dcm' / '.DCM' extension) produced by imaging equipment (MRI, CT, PET, PET-CT, SPECT-CT, Ultrasounds.). It is fully compliant.
There are two ways to import DICOM images in OsiriX:
via a network:
from local media:
You can then view and edit the DICOM headers.
Importing DICOM Images into OsiriX via a Network
[

edit

]
Images can either be pushed from the PACS using a DICOM 'store' function, or they can be 'pulled' by the DICOM query-retrieve function of OsiriX.
Using OsiriX as a Passive DICOM Listener
[

edit

]
If you are working in a PACS environment, the easiest way to import DICOM images into OsiriX is to configure OsiriX as a "DICOM Listener". In this configuration, DICOM images are sent from a PACS workstation to a Mac computer running OsiriX, which passively receives the images.
OsiriX and the PACS workstation must be first configured: Assign an AETitle and a Port number to OsiriX in the "Preferences" window. Then, contact your "friendly" PACS manager to configure the PACS. Don't forget to leave OsiriX running -- the DICOM Listener works only if OsiriX is active!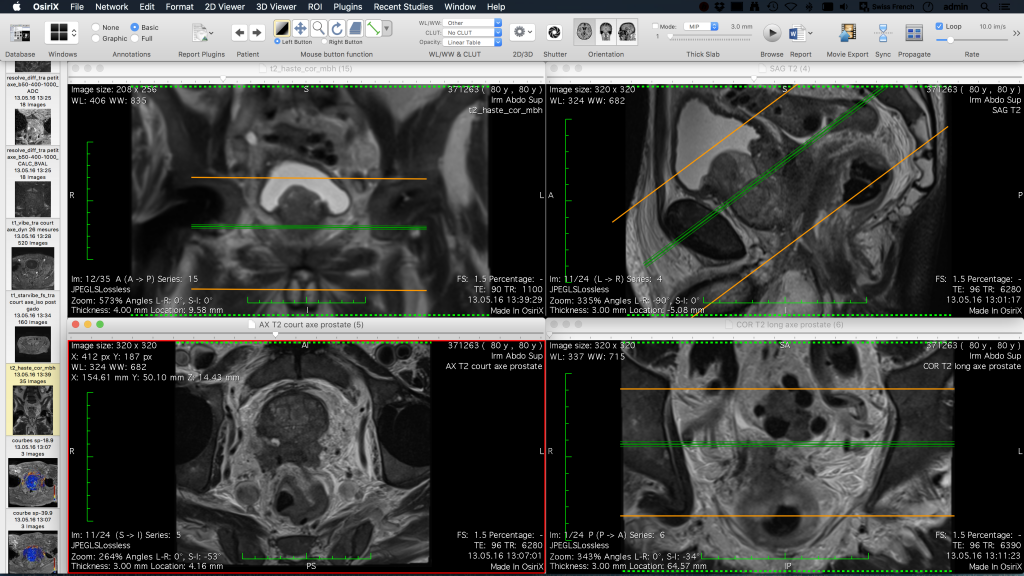 "Preferences" window to configure the "DICOM Listener"
Configuration for multiple users:
Osirix Viewer Download
If your OsiriX workstation is configured for multiple OsiriX users who log in via the fast user switch, then each user must have a separate AE title and port number.
Using OsiriX as a Query-Retrieve PACS Workstation
[

edit

]
As of version 1.7.1 OsiriX cannot be queried by another workstation.
OsiriX can query other DICOM devices such as workstations, CTs, MRIs, etc. Queries can be performed even if the other device is not configured to send to OsiriX. To query, first go to the preferences and under Locations add the AE Title, port, and hostname ( IP address) of the remote location. Go to the query window. Select the location and verify the connection if you want to. Type the name or part of a name in the search field and hit the return key. The query field has a pull down menu with more options.However, if you want to retrieve studies, the remote devices needs to be set up to send to OsiriX. The AE Title, port, and hostname (IP address) of OsiriX need to entered into the remote device of PACS.
Importing DICOM Images into OsiriX from Local Media
[

edit

]
If you have DICOM files on your hard drive, or have a DICOM CD-Rom, you simply need to click on the "Import" button of the "Local database" window. You then select either files or folders containing files. Multiple files and/or folders can be selected by clicking while holding the 'shift' key. You can also "drag-and-drop" files directly from the desktop into the "Local Database" window.
Special Notes for Importing Images from early versions of Vitrea Workstation software
[

edit

]
Earlier versions of Vital Images Vitrea workstation software (prior to version 3.8) did not follow the DICOM standard in that they did not write a DICOMDIR when exporting to a CD or DVD. All versions of Vitrea 3.8 or higher (current version as of 2008 is 4.1)do support the DICOM standard and do include a DICOMDIR upon export to CD/DVD. For earlier versions of Vitrea follow this process to successfully import images:
the preferences in Osirix must be changed from:
'Load only files described in the DICOMDIR file' to 'Load all 'DICOM' files available on the CD/DVD ( this doesn't rely on the DICOMDIR file) as in the screen shot below:
Also, you must have the latest software upgrade from VITREA. In the past, they have used a GEARWORKD CD Driver that the Macintosh could not read.
CD/DVD Preferences for importing images from a Vitrea CD or DVD
Opening Other Mac-Unfriendly CD's with OsiriX
[

edit

]
Some CDs apparently have a strange corruption that prevents Macs from viewing the files, so there is no direct way to access the images from OsiriX. However, the OsiriX Discussion Group has come up with several workarounds for reading poorly formatted image CD's:
Run Virtual PC.
You should now be able to access the CD as if you were on a PC.
From within Virtual PC you can now copy the data to a Mac folder.
Osirix should now be able to read the image data.
Flash drives (or your new iPod Shuffle)
Place the 'bad' CD in any old PC that has a USB port.
Plug the flash drive into the PC.
Copy the CD data onto a folder on the flash drive.
Take the flash drive and plug it into the Mac.
OsiriX should now be able to read the image data.
Ejecting an unrecognizable CD
If the CD does not show up in the Finder or on the Desktop:
Press F-12 for 5 seconds to eject the CD.
If that doesn't work, restart the Mac and hold down the left mouse button during start-up.
Burning a more Mac-friendly CD on a PC
When burning the CD, try the 'most compatible' option if available.
Try not using Drive Letter Access (DLA) or drag-and-drop for burning from a PC.
Try burning the CD in a single session.
Try finalizing the CD.
Use a CD-R, not a CD-RW disc.
There also seems to be an issue when using a VPN connection to retrieve images.
Viewing and Saving the DICOM Header of DICOM Images
[

edit

]
In the main OsiriX window, select the patient/study you want, then open the images by clicking on '2D-3D viewer', once the study has opened, you have the ability to modify the tool bar of the viewer window in OsiriX.One of the tools you can add is the Meta-Data button.
Starcraft games free. To add this button to your viewer:Under the OsiriX Format Menu, select Customize Toolbar..There will be a whole new set of icons;drag the Meta-Data button (in the top right corner) into your toolbar where you want it.
Select Done on the toolbar customization window.
There you go!You can save the Metadata as a text file or XML.
Osirix Viewer For Windows
Osirix Viewer Mac
OsiriX
^>
Osirix Viewer For Mac
Retrieved from 'https://en.wikibooks.org/w/index.php?title=Online_OsiriX_Documentation/Importing_DICOM_images_into_OsiriX_and_Viewing_DICOM_headers&oldid=3611399'